So! What'd you all get in your Gatecrash boxes and fat packs? :D
I don't normally review magic cards but I want to...
thelegendofvriska: I have a spoiler for all of those who haven't been catching up on Gatecrash spoilers. Blind Obedience. This card is gorgeous. Let me tell you why. :P Orzhov's keyword is Extort. Whenever you cast a spell, you can pay a white or a black to make each opponent lose a life, and you gain that much life. There isn't really a better card to put it on other than this card....
I'M GOING TO DO IT.
thelegendofvriska: I did it. I stayed up and built a deck. I need to make a few cuts and I want to stick a few more cards in but this is what it is so far. - Sygg, River Cutthroat - Read More
Any advice for a Sygg, River Cutthroat Commander...
And also, I am inactive. I apologize. D:
3 tags
uwcontrol: Modern will be a legal format for FNMs in 2013. Event decks are "Perfect for FNM". Does this means in 2013 we will have Event Decks with modern staple cards?
8 tags
2 tags
Legacy Maverick.
I'm 100% decided on making Maverick. No need for Force of Wills and such.  ~Moose.
Breaking into Legacy.
So as a standard player I'm going to quit it and start getting into Legacy. So budget deck here I come! Goblins, Merfolk, Enchantress, etc. We'll see how this goes.
4 tags
Return to Ravnica, to Gatecrash, to DRAGON'S MAZE!... →
2 tags
What're your favorite basic land arts?
Mine are personally the Hong Kong Apac Islands. I'd trade way too much for some. ~Moose.
2 tags
Going to my first major Magic tournament in two...
StarCity Dallas. Any suggestions for going to big events? Also, will anyone be there? ~Moose.
2 tags
Game day tomorrow.
4 color reanimator! What'd you run and how'd you do?
3 tags
thelegendofweavile: I'm just going to say that this is currently one of the best cards in standard. The interactions between it, Cloudshift or Restoration Angel, is absolutely sick. It's also really hard to get rid of and basically a guaranteed 5 damage. Which, in my deck of Geist of Saint Trafts and Burn, is pretty fucking good.  Read More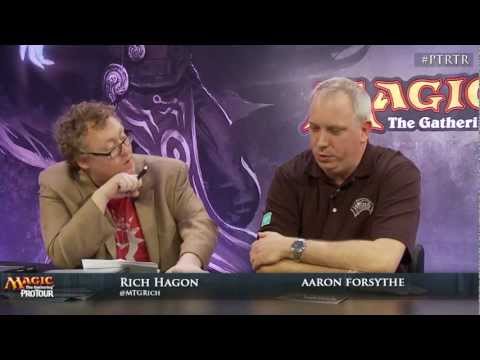 3 tags
Almost finished with my 4C Reanimator.
Just need a few commons in the mail. Here's my list. 3x Angel of Serenity 3x Griselbrand 4x Thragtusk 3x Centaur Healer 3x Restoration Angel 4x Grisly Salvage 4x Blood Crypt 3x Clifftop Retreat 4x Overgrown Tomb 3x Rootbound Crag 3x Sunpetal Grove 4x Temple Garden 3x Woodland Cemetery 4x Mulch 4x Lingering Souls 4x Grisly Salvage 4x Unburial Rites I'm currently...
2 tags
Pro Tour Return to Ravnica.
http://www.twitch.tv/magicprotour Format is Modern.
3 tags
5 tags
2 tags
Ever think of how much money you've spent on magic...
If there is an infinity sign on the keyboard I am using that I am unaware about, that is what you would be seeing. Addicting game is addicting . _ .  Still not as bad as cigarettes though. :P - Weavile.
2 tags
Updated trade list.
Wants 1x Huntmaster of the Fells 3x Olivia Voldaren 1x Thragtusk 1x Woodland Cemetery 2x Garruk Relentless 3x Mizzium Mortars 2x Sever the Bloodline Have List:3x Geist of Saint Traft [FOIL] 2x Mox Opal 1x Elesh Norn 1x Grove of the Burnwillows 1x Verdant Catacombs 2x DCI Promo Elvish Visionary 3x Promo Avacyn's Pilgrim 4x Restoration Angel 4x Snapcaster Mage 1x Steam Vents ...
2 tags
Now that I'm two cards away from finishing my Jund...
I need 4 Jace Architect of Thoughts. The work of a walker is never done. ~Moose.
4 tags
So This deck is mana screwy and I can't figure out...
2 Rhox Faithmenders  2 Riders of Gavony  1 Thraben Sentry  2 Vampire Nighthawks  3 Attended Knights  2 Cloistered Youth  2 Knight of Infamy  1 War Priest of Thune  3 Tormented Souls  2 Cathedral Sanctifiers  2 Champion of the Parish  4 Oblivion Rings  4 Safe Passage  2 murder  2 arrest  3 Gather the Townsfolk  8 Swamps  9 Plains  4 Vault of the Archangel  3 Shimmering Grottos...
4 tags
Weavile played American Control today and went...
4x Snapcaster Mage 2x Angel of Serenity 2x Isperia, Supreme Judge 3x Supreme Verdict 2x Mizzium Mortars 2x Bonfire of the Damned 3x Pillar of Flame 1x Entreat the Angels 2x Detention Sphere 3x Jace, Architect of Thought 2x Tamiyo, the Moon Sage 3x Izzet Charm 3x Azorius Charm 2x Sphinx's Revelation 2x Syncopate 4x Hallowed Fountain 4x Steam Vents 4x Glacial Fortress 4x...
-demon-of-light- asked: This is almost a stupid question, Out of any deck that can be assembled is there a legacy mill deck?
suddenly-pancakes asked: My brother got an overgrown tomb, a lol troll and a sphinx's revelation among other things.
2 tags
Did any of my followers get any sweet pulls?
I bought a fat pack and a half and pulled; Abrupt Decay, Blood Crypt, Hallowed Fountain, Steam Vents, Deathrite Shaman, Isperia, and Niv Mizzet. Of course I get no Overgrown Tombs. :( ~Moose.
4 tags
RTR Bant
are you asking for the list? :o aggro or contorl ~moose
3 tags
Best control lists so far;
Bug Control and Bant Control/Miracles. After testing both, and a few other lists, these are by far my favorite. If I can get some Jace's, my third standard deck will be built. ~Moose.
4 tags
6 tags
Feeling a bit BUGgy →
4 tags
Jund midrange revisited.
Creatures: 2 Deathrite Shaman 4 Arbor Elf 3 Vampire Nighthawk 4 Huntmaster of the Fells 2 Olivia Voldaren 3 Thragtusk 1 Bloodgift Demon Planeswalkers: 2 Liliana of the Veil 3 Garruk Relentless Other Spells: 4 Farseek 3 Tragic Slip 3 Abrupt Decay 2 Bonfire of the Damned Lands: 4 Overgrown Tomb 4x Forest 4 Blood Crypt 4 Woodland Cemetary 4x Dragonskull Summit 3x Swamp 1x Mountain Found a cool...
4 tags
4 tags
My friend and I examined the meta and tried to...
It's testing REALLY WELL against zombies and that's what matters these days, I suppose. BANT CONTROL Creatures: 4 Thragtusk 4 Restoration angel 3 Centaur Healer 2 Armada Wurm Spells: 4 Farseek 2 Azorious Charm 2 Detention Sphere 2 O-ring (to hit detention sphere) 1 Selesnya Keyrune 1 Azorius Keyrune 2 Sphinx's Revelation 2 Terminus 1 Supreme Verdict 2 Garruk, Primal...
4 tags
Ok sent the wrong deck list. Correction to the...
2 Rhox Faithmenders, 2 Riders of Gavony, 1 Thraben Sentry, 2 Vampire Nighthawks, 3 Attended Knights, 2 Cloistered Youth, 2 Knight of Infamy, 2 Tormented Souls, 2 Cathedral Sanctifiers, 2 Champion of the Parish, 3 Oblivion Rings, 4 Safe Passage,  2 murder, 2 arrest, 3 Gather the Townsfolk, 8 Swamps, 9 Plains, 4 Vault of the Archangel, 3 Shimmering Grottos, 2 Evolving Wilds.   ...
4 tags
So I'm thinking of this standard deck...
4 x Stromkirk Noble 4 x Rakdos Cackler 4 x Ash Zealot 4 x Lightning Mauler 4 x Cryptborn Horror 4 x Hellrider 3 x Rakdos, Lord of Riots 4 x Bonfire of the Damned 3 x Searing Spear 4 x Pillar of Flame 4 x Blood Crypt 4 x Dragonskull Summit 14 x Mountain So, what do you think? Suggestions? I personally don't think Bonfire would be as good in your deck, althought...
2 tags
How did your pre-release go? What type of cards...
Tell us about your Pre-release experience through a submission! :) - Weavile.
6 tags
The horrible moment when a dual land is the same price as the shock land. And you need 5. :( ~Moose.